Design an Awesome Twitch Logo
In the world of Twitch, you need a logo that stands out from the crowd. 
There's a lot of competition for viewers, and if your logo doesn't dazzle or catch the eye, no one will discover your channel.
You also build credibility and authority by having a professional brand design. All of these ingredients are crucial if you want to successfully create a Twitch community. 

With Tailor Brands' logo maker, the AI program does all of the hard work for you. 
The AI understands the type of streamer you are and your favorite games. After assessing your brand style and personality, it'll present you with dozens of logo designs for you to choose from. 
With the easy-to-use interface, you can try the different designs and experiment with a multitude of color schemes and layouts until you find your favorite one. 
Before you head off to design your logo with Tailor Brands or read the rest of the article, there are two essential tips we want to give you. 
Logo space is at a premium on Twitch. You only have a small circular area available, so you need to make every pixel count while making sure your logo scales well. 
There's a current trend on Twitter where streamers are using cartoon avatars of themselves as their logo. Sometimes following the trend is cool, but how will you stand out if you're just like everyone else?
Now we've got that out of the way, let's explore some of the most popular Twitch games and how to design a kickass logo for each type of channel. 
How to make your own Twitch logo
Create your Twitch logo in two minutes, simply by entering your business name
and tagline (if relevant) and clicking Design.
Tell us a little about your Twitch channel, select a logo type, and choose the fonts you love, so we can create the perfect logo for your brand!
Make adjustments and tweaks with our logo editor to bring your vision to life. You can play with fonts, colors, and logo layout – no design skills necessary! 
Design Your Custom-Made Logo Instantly
Need some twitch logo inspiration before you get started? We got you. Check out some of the cool logo ideas below, designed by our logo maker!
Twitch Logos for Inspiration
Scroll down to find the game that you stream and learn which logo design elements are best for your channel.
Developed by Riot Games, League of Legends is one of the most popular online games played all around the globe. 
Its esports community is one the largest, and millions of fans watch the many professional teams compete for the Championship title and prize money. Which often has millions of dollars in it.
So it's no surprise that it's also one of the most-watched games on Twitch, and many streamers have gained a vast number of followers as people watch them play and communicate on the chat. 
If you want to get in on the action, then you're going to need to stand out from the many other Twitch streamers who already have a following of their own. 
One of the easiest ways to get yourself noticed, as well as give your brand awareness a boost, is to create a stunning logo. As we mentioned before, many streamers are using cartoon versions of themselves.
Imagine a hundred people in a crowd, all wearing red shirts, but you're wearing white. You're the only one who stands out. That same idea applies to your logo design, so don't be afraid to try something different, which will get you noticed. 
Use a bold color that contrasts well with Twitch's background to help increase your visibility. You can use either an icon which represents your brand name and personality, or your name initials with a unique font.
Rhobalas_lol is a popular Twitch streamer, and his logo stands out thanks to his unique octopus design. 
LOL Pro League streams games and provides commentary on the gameplay. Instead of an icon, they use their brand's initials with an action-oriented serif font. By keeping the font white but placing it on a red background, it's instantly noticeable. 
At its peak, Fortnite had an estimated 125 million players online. Yes, it's lost some of it's popularity to newer games, but it's still one of the most streamed games on Twitch and has a strong core of followers. 
Many different age groups enjoy Fortnite. Due to it's toned down gore and cartoonish graphics, it's also enjoyed by younger audiences, not just mature players.
It's something to keep in mind when designing your logo and the type of audience you're trying to attract. 
One of the most popular streamers Dakotaz, uses a cute cat icon as his logo. By using a cartoonish icon, he's able to promote himself to younger audiences and let them know that his streaming channel is a good fit for them. 
If you want to mimic his logo style, you don't have to use a cute animal. You can use a cartoonish version of any type of icon, as long as it fits your overall branding. 
If you're using any text such as initials in your logo, be sure to use a relaxed, friendly font as well. Sans-serif is very clean as they don't have sharp lines and are more casual than their serif cousins. 
To finish off your logo design, your color palette needs to match your brand's tone and personality. Use bright colors if you're animated and witty. If you're trying to promote yourself as a gaming professional, choose darker color shades that will better reflect this side of you. 
It's been around for over a decade, but Minecraft is still one of the most popular games streamed on Twitch. 
CaptainSpaklez is one of the most prominent Minecraft streamers and has amassed over 10.5 million subscribers. 
Instead of a cartoon character or icon, his unique logo features a unique S with an exciting font style and eye-catching colors. The yellow background uses more than one shade of yellow, which helps to breathe life into it, and the red outline contrasts markedly against it.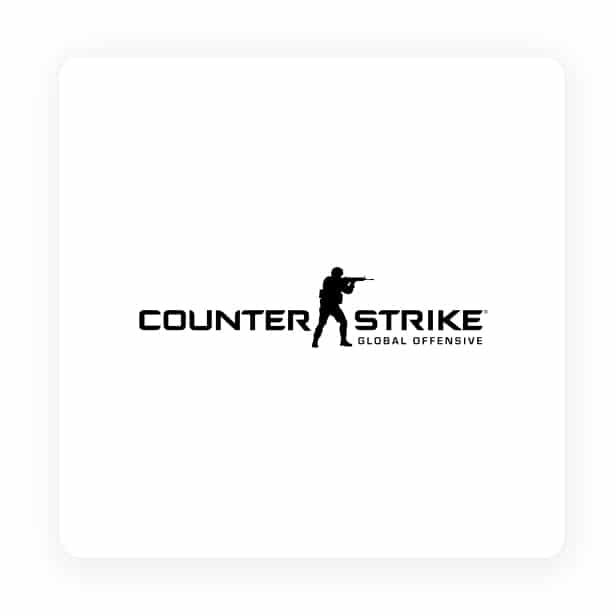 Counter-Strike: Global Offensive
Counter-strike is a simple game by design but requires great skill to succeed. There are no special weapons, powerups, or abilities available to players. Only with practice and determination can you rise up the ranks and join the small list of elite Counter-Strike players. 
One such veteran of the professional gaming world is Shroud. He started playing Counter-Strike when it was first released. 
When he first began streaming, he gained a considerable following due to his young age and high skill level. As he grew older, he began to participate in professional tournaments and even won the pro league in 2016. His logo is his face, something that he can do because he's such a big name in the gaming world. 
If you're trying to gain traction with your Twitch channel, your logo needs to charm your audience into joining your stream and subscribing. 
Use vibrant colors that stand out. Don't be tempted to copy other popular streamer's channels. It's much easier to grab viewers when your color scheme is unique. 
Choose a bold sans-serif font for a modern and fun feel. If you want a more serious vibe, choose a serif font. If you want an action font to choose a font with extended serif lines. 
And finally, your icon should be a representation of you and your channel. If you only play one game, such as CS: GO, choose an icon that's easily linked to that game. And don't forget your icon needs to complement your color palette and font. 
Remember that you only have a small space to work with, so only use the elements you need in your logo and cut away any you don't require. 
It's regularly one of Twitch's most popular games and has thousands of fans watching streamers play 24/7. 
In such a competitive landscape, your audience's first interaction with you is via your name and logo. So when you make your Twitch logo, you need to nail it.
You may hear people say you can use abstract shapes in your logo because they're unique and pleasing to look at. Instead, use an icon that has meaning. It will help your audience learn about your personality and channel.
Defense of the Ancients 2 (DOTA 2) originated as an add-on module for the popular game World of Warcraft. Because it's completely free to play, anyone with a computer and an internet connection can enjoy it. 
Using contrasting colors in your logo is an excellent way to raise more awareness for your channel and gain new subscribers. Be wary of colors that don't compliment each other or create a visual tone that has a negative feeling. Too many dark greens and yellows can create a drab atmosphere. 
If you're dead set on using a dark shade, contrast it with a warm, vibrant color to make it dazzle. Light purple on a black background is a simple, yet effective color scheme which looks professional while also showing off a fun and creative side.
The famous DOTA 2 streamer Admiral Bulldog uses a cute bulldog puppy as his logo. If your name allows, use a literal icon as your channel's logo to help connect with your audience. 
Whichever logotype you choose to go with, icon, initials, or text. Stay away from dark shades and dull colors. Remember that Twitch viewers want to be entertained, so use bright, eye-catching colors that are unique and dramatic.
With over 3 million followers on Twitch, FIFA is still the most popular online sports game streamed. 
To kick-off your streaming channel with a logo that bends it like Beckham or dribbles like Messi, you need a Twitch icon that stands out and makes an impact.
You also need it to be memorable and appropriate for your audience (depending on their ages, interests, etc.), and it should be as simple as possible.
Many popular streamers such as Flair and Dex_tv use initials in their logo. It's an easy way to use fonts and colors to create a unique look while still announcing your brand and personality. 
It's hard to use Football related icons without coming across as cliched or copying other popular channels. 
If you stream other games as well, people may be confused if your logo is a pair of football boots, but you're playing the latest horror game.
Overwatch is a sci-fi first-person shooter from Blizzard, one of the most successful game production companies in the world. 
And their recipe for Overwatch was a great success. It was an instant hit, and even though it's less popular than it once was, it still has over 18 million followers on Twitch. 
You can use Overwatch's cartoonish graphics and vibrant colors in your logo design. Use energetic hues similar to 90's style. It can be dramatic and bright, as long as it's unique and sure to grab your audience's attention. 
Many streamers use their initials to help viewers remember their brand name and raise awareness. And they use bold, sans-serif fonts which are futuristic, which fits the sci-fi theme of Overwatch. Due to the logo's small size check that it's easy to read.
Design Your Custom-Made Logo Instantly