How Much Does It Cost to Form an LLC?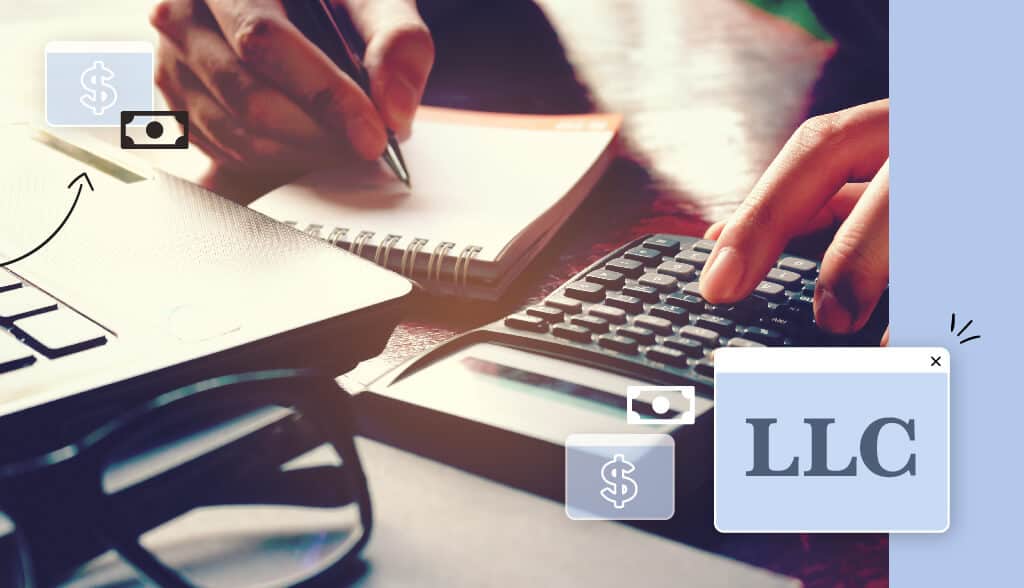 LLC setup costs are like the Amazon check-out process. You buy what you're looking for and a list of "items often bought with this product" appears.
Now you've got a choice: Check out or buy those extras. 
Sure, some of them are essential for your original purchase, while others that might help make life a little easier. 
The point is the cost rises.
And when you first start an LLC, keeping costs low is essential, but knowing what to pay for can be confusing.
I'll remove that confusion by explaining what services are available, how they'll help you, and why you should invest in them.  
LLC setup costs depend on several factors. Some of which are obligatory (I've added a list at the end of this post). And others that are optional, like reserving your LLC name, writing an operating agreement, and hiring a registered agent.
But before I explain those, here are 3 different ways to set up your LLC, all with different price tags.
1. Do it yourself: It's your cheapest immediate option, but the complicated paperwork and filing procedures can be challenging to navigate. 
2. Hire a lawyer: If you've got the budget, you can pay a lawyer to do it for you; fees range from $1,000 to $1,500. 
3. Use an LLC formation service: LLC formation services provide an excellent middle ground, specializing in forming LLCs for as little as 300$.
Now let's look at the obligatory LLC formation costs:
The first LLC setup cost is registering it as a legal entity by filing articles of organization with your secretary of state. 
An article of organization is a one-time document and fee charged by your state to form your business as a legal entity. You can download the articles of organization form for free from your secretary of state's office website.
 There's also filing fees, which vary state to state.
State filing fees vary from $10 in Colorado to $300 in Texas. You can pay the fee online, by mail, or in person. 
In some states, you must pay a notary to witness and sign your articles of organization before submitting it. A notary is a public officer allowed to perform specific legal tasks. Costs vary ranging from $2 to $16 per signature. 
But before you file, you should ensure your chosen LLC name is available. Otherwise, your state could refuse your application and filing fees are non-refundable (that'd be a bummer, amiright?). I'll tell you how to check this later in the post, but we have something else to cover first.
Publication fees apply when a state requires a new LLC to tell the public of its formation by publishing it in a local newspaper for 3 consecutive runs. A run can be one day per week for 3 weeks.
States that require you to publish a public notification are Arizona, Nebraska, and New York. 
Costs can range from $600 to $1200, depending on your LLC's office location, your state's notification requirements, and the advertising rates charged by your local newspaper
LLC Business Licenses and Permits
Whether you're selling hot dogs or pharmaceuticals, most businesses require permits and licenses to trade within the U.S.
License and permits requirements depend on 2 things:
1. Your location: Each state has its own licensing and permit regulatory requirements.
2. Your industry: You might need permits and licenses at a state or federal level to sell or provide certain products or services. 
Licenses You Might Need and General Costs
On top of all that, you've got to know what your ongoing costs will be while waiting to turn a profit. Otherwise, you could run out of funds, and go bust (which I hope never happens to you!). 
You can use a Financial Needs Analysis to work those out.
Unavoidable LLC Ongoing Costs
Once your LLC is up and running, you're obligated to renew licenses, file reports, and pay a tax to trade in some states. 
Fortunately, most LLC ongoing costs don't break the bank. 
Business License Renewal Fees
Most states don't require a business license to form an LLC, but you need one to run it. 
Licenses are legal documents showing you've been approved to engage in specific business within your jurisdiction and can comply with local/state regulations.
States require you to renew your LLC local and state business license. Costs vary state to state, ranging from $16 every 2 years in Colorado to $287.50 annually in Alabama. 
An annual report (sometimes referred to as a Periodic Report or Statement of Information) is a document detailing your LLC's activities throughout the prior year. 
Its purpose is to provide details about current managing members and owners, your registered agent's business address, and any changes that might have occurred since the last filing period. 
Filing an annual report ensures your LLC stays compliant with all state regulations, preserving your limited liability protection, and flow-through tax status.
As the name suggests, most states require you to file reports every year, whereas some require every 2 years, 10 years, or not at all for others. 
Some states will send a reminder form, so you don't miss a deadline. But if yours doesn't, you can outsource to an annual report filing service.  
A franchise tax (also referred to as an annual fee) is a recurring fee you pay to your state every year you're in business.
It's a tax you must pay regardless of whether your LLC was profitable or not. If you don't pay, your state will dissolve your LLC. 
Fees range between states, from $150 in Arkansas to $800 in California.
Additional LLC Optional Fees
Some additional LLC costs are like added extras at checkout. Some extras you might not need at all, others could make your LLC more effective, and sometimes they can be essential to running a secure and successful business.
Let's check out what some of those extras might be:
A registered agent is someone who accepts legal documents on your LLC's behalf. This individual can be anyone over 18, with an address in the LLC's state of formation, and be available during regular business hours. 
You don't have to employ a registered agent, but there are certain benefits to doing so. It might be beneficial if you're doing business from home and don't want your private address to be made public, or if you don't keep regular business hours. 
You're only required to hire a registered agent when your LLC doesn't have a physical address in your state.
You can do it yourself for free, or if you designate someone to be your registered agent, it can cost between $100 and $300 per year. 
Operating agreements are an optional extra and you could write it yourself for free. But depending on your business's structure, an operating agreement can be complicated and it might make sense to leave it to a professional.
Well written operating agreements outline how your company will run, including your company structure, management responsibilities, allocation of funds, and the purpose of your business. 
You might need an operating agreement for the following reasons: 
Let's review the 4 pricing options available:
1. Write it yourself: It's free to write and file an operating agreement.
2. Purchase a template: You can buy an operating agreement template online from $50 to $200.
3. Hire a lawyer: If your LLC has several members or a complicated structure, you may need to hire a business lawyer. The average price for a single-member LLC is $300, rising to $3,000 plus for a multi-member.
4. An incorporation website: You can pay an online company to write and submit your operating agreement for as little as $99.
You need an Employer Identification Number (EIN) to open a business bank account, apply for a business credit card, get financing, and pay taxes.
Businesses often offer and charge for this service. But you don't need to pay if you apply for an EIN yourself using the IRS website or by contacting your secretary of state's office. 
You don't have to reserve your LLC name before filing your articles of organization. 
But if you've found the perfect business name and aren't yet ready to form your business, you can apply to reserve it with your secretary of state's office for up to 120 days. 
Doing so can cost as little as $10 to $50, so it's well worth the investment. 
Filing a Fictitious Business Name Application ("DBA")
You don't have to trade using the business name you listed when filing your articles of organization. 
You can use an alternative, fictitious business name, also known as a DBA (doing business as). You might do this if your LLC's registered name isn't good for branding and marketing strategies, or you don't want to include the word LLC. 
It's purely optional, and many LLC's see using the abbreviation as an advantage as it shows the company is a legal entity.
How to register a DBA varies from state to state. In some, you must apply with the secretary of state. While in others, you must file at the county level and in every county where your business has premises.
You may also be required to publish notification of intent of use in a local paper. All states charge a filing fee, ranging from $10 to $200.
How Much Does It Cost to Form an LLC?
You now know that costs vary from state to state. Some are optional, like reserving your business name and designating a registered agent. While others are unavoidable, including licenses and permits and state filing fees.
LLC State Filing and Annual Fees
| | | |
| --- | --- | --- |
| State: | Filing Fee: | Annual Fee: |
| Alabama | 200$ | 100$ |
| Alaska | 250$ | 100$ |
| Arizona | 150$ | None |
| Arkansas | 50$ | 150$ |
| California | 100$ | 800$ |
| Colorado | 50$ | 10$ |
| Connecticut | 120$ | 80$ |
| Delaware | 90$ | 300$ |
| Florida | 125$ | 138.75$ |
| Georgia | 100$ | 50$ |
| Hawaii | 50$ | 15$ |
| Idaho | 100$ | None |
| Illinois | 150$ | 75$ |
| Indiana | 90$ | 30$ |
| Iowa | 50$ | 60$ |
| Kansas | 165$ | 50$ |
| Kentucky | 40$ | 15$ |
| Louisiana | 75$ | 30$ |
| Maine | 175$ | 85$ |
| Maryland | 100$ | 300$ |
| Massachusetts | 500$ | 500$ |
| Michigan | 50$ | 25$ |
| Minnesota | 135$ | 35$ |
| Mississippi | 50$ | 25$ |
| Missouri | 105$ | None |
| Montana | 70$ | 20-35$ |
| Nebraska | 100$ | 10-30$ |
| Nevada | 75$ | 150-400$ |
| New Hampshire | 100$ | 100$ |
| New Jersey | 125$ | 50$ |
| New Mexico | 50$ | None |
| New York | 200$ | 25-4,500$ |
| North Carolina | 125$ | 200$ |
| North Dakota | 135$ | 50$ |
| Ohio | 99$ | None |
| Oklahoma | 100$ | 25$ |
| Oregon | 100$ | 100$ |
| Pennsylvania | 125$ | None |
| Rhode Island | 150$ | 50$ |
| South Carolina | 110$ | None |
| South Dakota | 150$ | 50$ |
| Tennessee | 300-3,000$ + 50$ a Member | 300-3,000$ + 50$ a Member |
| Texas | 300$ | None |
| Utah | 70$ | 20$ |
| Vermont | 125$ | 35$ |
| Virginia | 100$ | 50$ |
| Washington | 200$ | 60$ |
| West Virginia | 100$ | 25$ |
| Wisconsin | 130$ | 25$ |
| Wyoming | 100$ | 60$ |
You can reduce your overall costs using our LLC formation service starting at 300$, leaving you enough cash to pay for those necessary extras! Some of which you can also get right here with us, including registered agents, business names, and, of course, branding services!
As we've seen, establishing an LLC requires lots of fees (sigh). It might sound overwhelming and expensive, but remember that fees depend on which state you're operating and what licenses you may require for your business. 
But many small business owners feel that these costs are worth it for all the benefits an LLC provides. And now that you have all the information you need, you're closer to achieving your business goals of forming an LLC. 
This portion of our website is for informational purposes only. The content is not legal advice. All statements, opinions, recommendations, and conclusions are solely the expression of the author and provided on an as-is basis. Accordingly, Tailor Brands is not responsible for the information as well as has not been evaluated the accuracy and/or completeness of the information.